Here at Vintage Hardware and Lighting we specialize in American antique lighting, When we came across these Noverdy and Vianne style sconces, we just couldn't pass them up.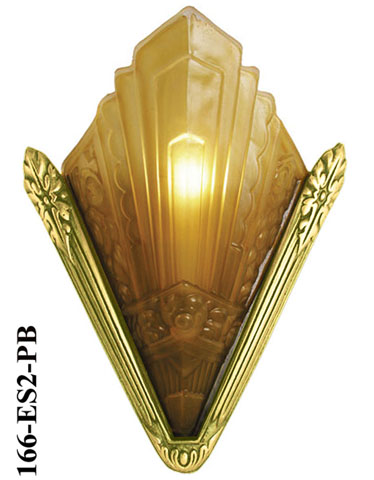 We bought the originals from a restoration project in Seattle.When our antique originals sold quickly, we decided to make them as reproductions. This is a nice large Art Deco sconce  which is seldom found. The basic fixture is solid heavy brass, left un-lacquered and brought to a high polish. This is the way the sconce would have been presented when new. Also offered in an antique brass finish, giving the light a lovely aged look. Our nickel finish  gives the light a "modern," clean look.
When our reproduction art deco sconce turned out so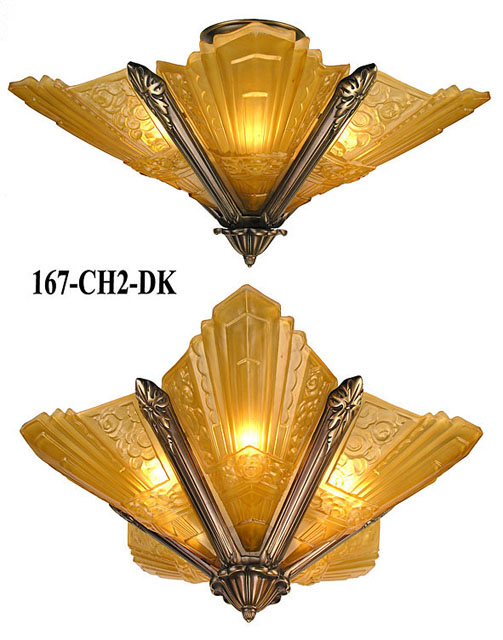 successful, we decided why not make the deco chandelier  as well? Same Quality as the  sconces, measuring 26" in diameter from deco shade to shade, with five of our slip shades and available in  polished brass, nickel  and  antique brass finishes. The French deco five light chandelier and sconces are truly a seamless match.
 With beautifully detailed slip shades, remade from the originals, typical of fine French quality. The shades come in two colors a soft frosted amber  giving the room a warm ambiance, and a frosted white that marks  its presence.
With the series of deco lights being so popular we've put into play and ongoing design for a bigger chandelier. With nine of our quality slip shades and a span of 44" and available in all of our finishes and shade color, to suit anyone's taste.  This deco chandelier is undeniably going to be stunning. This light would be a great addition to your home, or office.

See all of our art deco slip shade lighting at vintagehardware.com