Here at Vintage Hardware and Lighting we only reproduce the best of the best antique lighting . If it was not of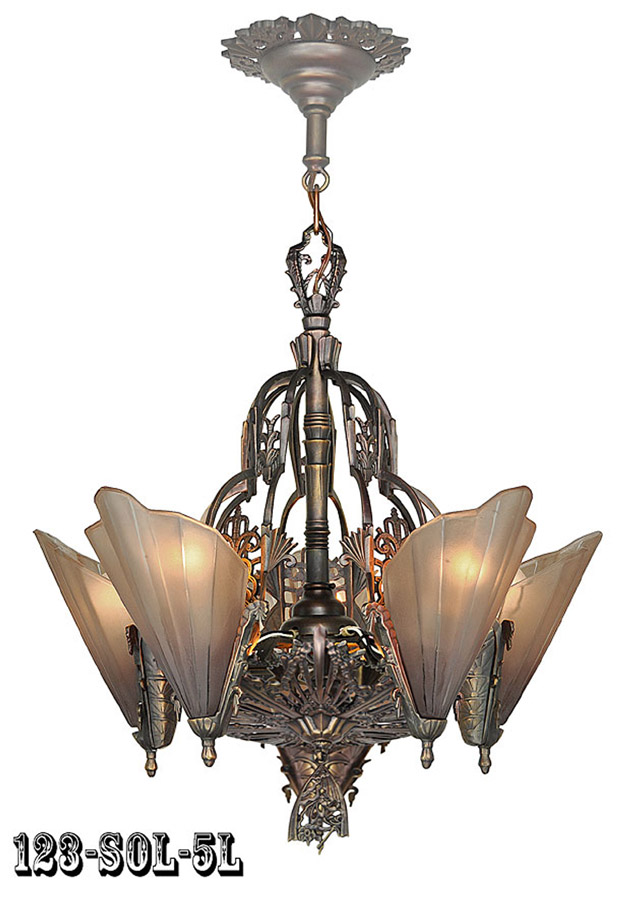 high quality in its day, we won't make it.
After two years of working on this project, we now offer one of the finest Art Deco recreations on the market today. Originally made by Mid-West Manufacturing of Kansas City, Kansas in 1935, this company had a remarkable attitude towards the Great Depression. Their attitude was to make only the best, since there are always folks with money out there, even in the worst of times.
So…for this "Soleure Series" we adopted a likewise philosophy. Make it from the best materials (silicon bronze), by the best method (lost wax casting like jewelry is made), and finish it in a fine red bronze finish with highlights of the original metal.

Since we are curators of the only American Art Deco Lighting Museum , we can assure you that the original manufacturer and original manufacturing date of this fixture has been verified by our literature library as being from Mid-West Mnf and of this time period.
The Soleure five light chandelier has an ornate design pierced on its bottom, very beautiful, complementing the sheer quality and design of this series.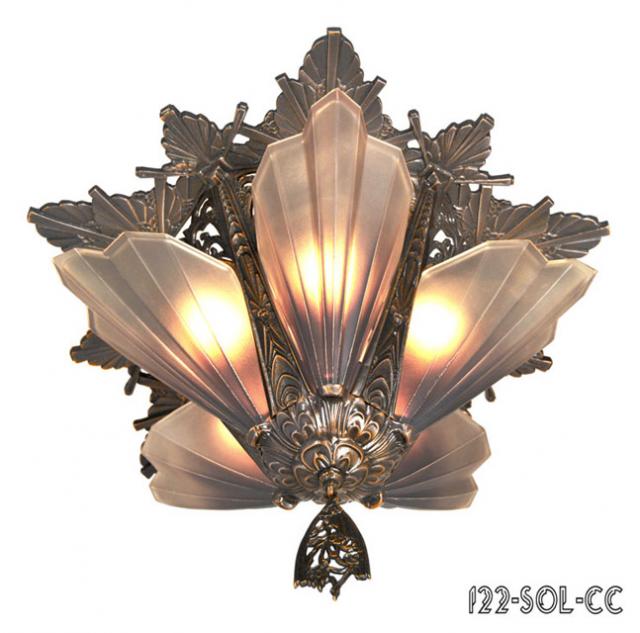 The Soleure five light close ceiling chandelier is a beautiful design, going right along with the series; it has an ornate frame with beautifully detailed highlights just like the original metals, holding five of the fine quality reproduction Soleure slip shades . Great for areas with shorter ceilings, so that you can keep the look of this series flowing through your home.
The Soleure six light chandelier is seemly close to the Soleure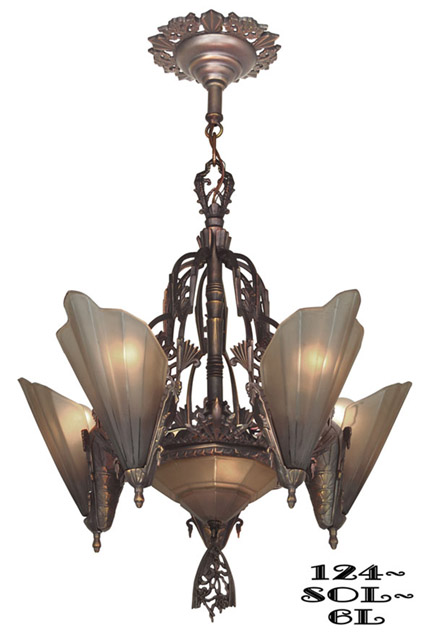 five light chandelier with an additional bottom disc shade that is tinted to match the Soleure slip shades and is another benefactor to the quality of this series.
The Soleure two light pendant is a great addition to this series, also made for areas that are small or have short ceilings. The Soleure pendant light is a great way to add class to your home. It is the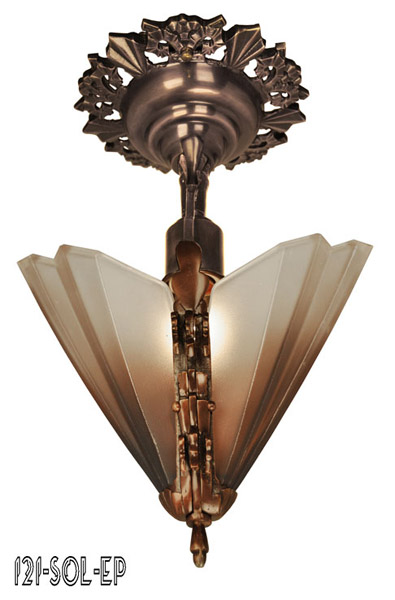 perfect size for hallways, entries, or powder rooms. For higher ceilings, chain can be added for a longer drop.
The Soleure Series Sconces are the finishing touch to any Art Deco Décor. The Sconces truly are gorgeous, matching to the series in every way. Who could resist adding these lights to their home.
If you already have an antique Soleure Light, we also provide the high quality reproduction slip shades . The shades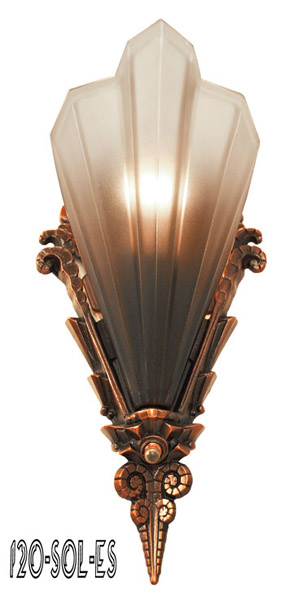 are made with the best glass shade cast from an original. Painted with a soft and warm brown color that has a light purple hue, the shades blend perfectly with this light complementing the color in every way.
We absolutely love this series, and so do our customers, and we are sure that you will too.
See the entire line of the Soleure series Lights at Vintage Hardware and Lighting.