Here at Vintage Hardware and Lighting we pride ourselves in reproducing quality lighting. One of our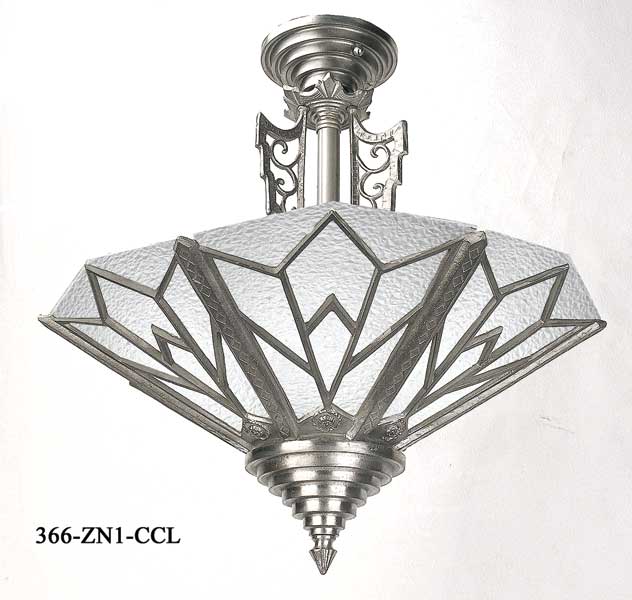 specialties is Art Deco style lighting , so much that we have an entire museum dedicated to authentic antique art deco lighting fixtures .
What is Art Deco? Featuring sleek lines and exotic finishes, a very distinctive look, Art Deco was a Ultra- modern design movement from 1925 until the 1940s, affecting the decorative arts such as architecture, interior design and industrial design, as well as the visual arts such as painting, the graphic arts and film.
We found a series of fantastic Art Deco lights coming from the depression era of America Circa 1936. We have catalog references for them showing some very unique designs and so we re-created "The Manhattan Line " consisting of two chandeliers and a sconce.
This line is made from zinc by the Lost Wax casting method (also used for jewelry and bronze artwork). Zinc was the exact same material with which the Art Deco originals were cast. The metal appears a brushed nickel or pewter tone.
We also have sourced unique Art Deco scalloped glass in both frosted finish and amber tint. Due to the narrowness of the projection, safety dictated a candelabrum socket capable of a 60 watt candelabrum bulb. We believe that this is sufficient for accent and small fill-in area lighting.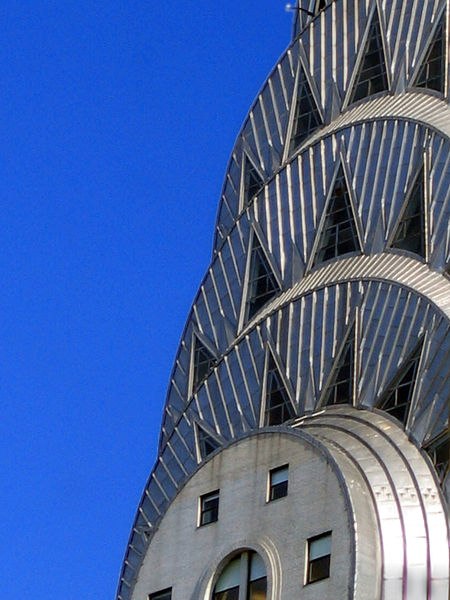 The close ceiling Art Deco Chandelier is a nice lower ceiling solution with Art Deco class. Clean, crisp lines remind you of some of our most famous art deco style buildings, like the Chrysler building .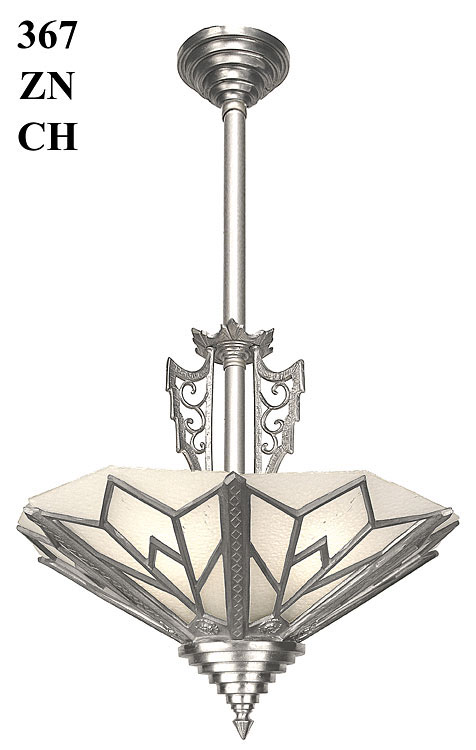 This chandelier is also available as a longer length Manhattan Tall Art Deco chandelier with standard 3/4" pipe to the length you wish to use in a room. In this case, the ceiling canopy slides down the pipe for mounting, and then, back up for a finished appearance. If you indicate the length you wish, it will be supplied to size, or it can be supplied for a maximum length of 45" but trim-able, with instructions so you can trim it yourself.
The Manhattan series Art Deco sconce comes complete with your choice of either frosted glass panels (as shown) or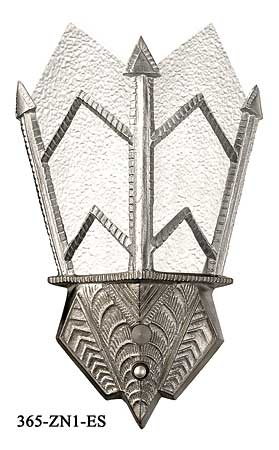 amber tinted glass panels.
The Manhattan Series is perfect for an Art Deco style bathroom, or kitchen . You will love the classic deco look of this series. Some designers place such interesting light in contemporary rooms to give them more character, as the modern art deco lights were way ahead of their time.
See all of our reproduction art deco lighting and our restored antique art deco lighting at vintagehardware.com